FREE SHIPPING WITH CBD JANE'S ON ORDERS OVER $50 WITHIN THE USA!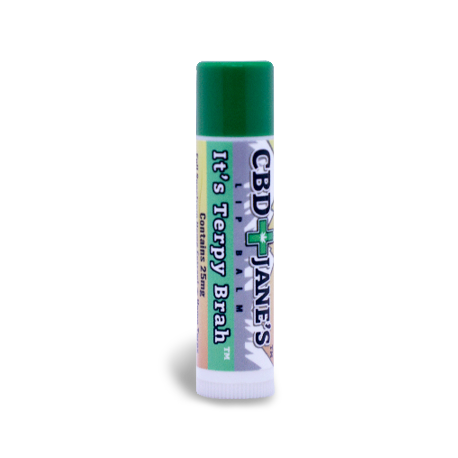 .15 oz "It's Terpy Brah" Lip Balm / 25mg CBD
SKU 00006
Product Details
Our full spectrum It's Terpy Brah / CBD 25mg lip balm soothes dry lips and stays on for hours. It smells delicious with Real Natural Hemp Terps and just feels most excellent on your lips Brah. You will want to keep a CBD Janes lip balm in your pocket always to remind you what it smells like when running through a cannabis farm! Mmmmm!
Ingredients: Coconut Oil (Extra Virgin, Organic), Hemp Seed Oil, Olive Oil (Organic), Sweet Almond Oil, Cocoa Butter (Organic), Shea Butter (Organic), Beeswax, Castor Seed Oil (Organic), Carnauba Wax (Organic), Lanolin, Vitamin E, Hemp Cannabinoid Extract (Full Spectrum), Hemp Terpenes
•• We use the best CBD Oil (CO2) on the market! We make all our products from scratch with Organic Natural ingredients, Beeswax, and best-in-class Essential Oils (Never made with over-the-counter Bases, Fragrances or Chemicals like everyone else uses, Yuk!!) Only the best ingredients go into making one of the most unique and best products on earth.Consider making CBD Jane's your first and last stop, trusted satisfaction guaranteed!!
Save this product for later